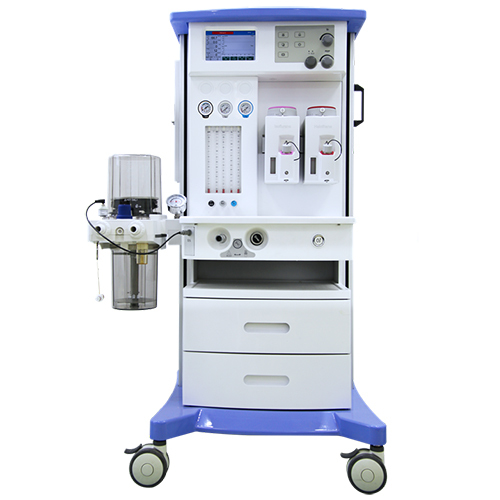 Hospital Anesthesia Machine
Product Description
Ventilation mode: IPPV, A/C, SIMV, SIGH, MANUAL
Ventilator parameter range
| | |
| --- | --- |
| Flowmeter | O2 (0.1 ~ 10 L/min) |
| | NzO (0.1 ~ 10 L/min) |
| | AIR (0.1 ~ 10 L/min) |
| Rapid oxygen supply | 25 L/min ~ 75 L/min |
| Tidal volume (Vt) | 0, 20 mL ~ 1500 mL |
| Frequency (Freq) | 1 /min ~ 100 /min |
| I:E | 2:1~1:6 | |
| PEEP | 0 cmH20 ~ 30 cmH20 |
| Pressure triggering sensitivity (PTr) | -20cmH20 ~0cmH20O (Based on PEEP) |
| Flow trigger sensitivity (FTr) | 0.5 L/min ~ 30 L/min |
| Pressure control (PC) | 5 cmH2O0 ~ 60 cmH2O |
| SIGH | 0 (off) 1/100 ~ 5/100 |
| Apnea Ventilation | OFF,5s~ 60s |
| Pressure Limit | 20 cmH20 ~ 100 cmH2O |
Monitoring parameter
| | |
| --- | --- |
| Frequence (Freq ) | 0 /min ~ 100 /min |
| Tidal volume (Vt) | 0 mL ~ 2000 mL |
| MV | 0 L/min ~ 100 L/min |
| Oxygen concentration | 15% ~ 100% |
Oscillogram
P-T (pressure — time)
V-T (volume — time )
Alarm and protection
| | |
| --- | --- |
| The AC power failure alarm | Power failure or no connection |
| Internal battery backup low voltage alarm | <11.3+0.3V |
| No tidal volume | <5mLwithin6s |
| High oxygen concentration alarm | 19% ~ 100% |
| Low oxygen concentration alarm | 18% ~ 99% |
| High Airway pressure alarm | 20 cmH20 ~ 100 cmHz2O |
| Low Airway pressure alarm | 0 cmH20 ~ 20 cmH20 |
| High Minute Volume alarm Adult | (5 L/min ~ 20 L/min) |
| Low Minute Volume alarm | Paed(1 L/min~15L/min,O~10L/min) |
| Continuous Pressure alarm | (PEEP+1.5 kPa) over 16s |
| Suffocation warning | 5 s ~ 60 s no spontaneous ventilation |
| The maximum limited pressure | <12.5 kPa |
| Fan error | Show on screen |
| Oxygen deficit | Show on screen |
Working condition
| | |
| --- | --- |
| Gas source | Oz, N2O, Air |
| Pressure | 280 kPa ~ 600 kPa |
| Voltage | 100 ~ 240 V |
| Power frequency | 50/60 Hz |
Packing size
| | |
| --- | --- |
| Wooden case packing size | L 810 * W 1060 * H 1540 mm |
| GW. | 150 KGS |
| N.W. | 96 KGS |
| CBM | 1.33 m3 |
Application
The Anesthesia machine makes a good performance in Intensive Care Units (ICU), Operation room, Anesthesiology Department and other departments. S6100C is designed for ease of use, incorporating basic function and the maximum patient safety in daily anesthesia practice. Professional design for adult, child and infant inhalation anesthesia and respiratory management, with advanced ventilation modes. Combine proven ventilation technology with the latest refinements in ergonomics and systems integration with an advanced, easy to use anesthesia table designed together with experienced experts to streamline your anesthesia workflow.
Screen
7" screen displays information area, alarm area, monitoring area and setting area.
2-3 hours built-in backup battery.
Intelligent three level alarming system with 14 alarm, visual and sound alarm information.
2 oscillograms: P-T, V-T
Pressure gauge: Pressure gauge shows pressure of centre gas system or gas cylinder.
Bellow
1500mL can applied to different patients.
Volume of absorber: 1.5 L
Integrated design makes installation easily.
Oxygen sensor : Oxygen sensor makes sure accurate parameters.
Brake: 4 casters with 2 individual brakes.
Vaporizer
One or dual-position
Choice: Halothane, Enflurane, Isoflurane, Sevoflurane
1 set vaporizer for standard, max 2 sets.
Mechanical flowmeter
5 Mechanical flowmeters: Oz, Air, N2O.
Fine control: 0.1-1 L/min
Coarse control: 1-10 L/min
ACGO and fast oxygen supply: Emergency situation and revival after operation.
Optional
AGSS
Gas gauge for gas cylinders
Vital sign monitor, anaesthetic gas monitor
Hand held ETCOz monitor or Vital sign monitor with ETCO2
3 Yokes

Contact Us
New No:9, Old No: 5, College Road, Nungambakkam, Chennai, Tamil Nadu, 600006, India
Phone :+918035929000